Hi, my name is Jakub Góralski. I'm the BIM Manager of East Europe for ASSA ABLOY Opening Solutions. I have been using Autodesk® Revit® for more than 17 years. As an architect and Revit® consultant, I know intimately how frustrating creating and communicating door schedules and openings information can be.
Creating openings and reviewing door schedules can be a headache for any architect or designer.  After all, in most design projects, there is no straight way to document the order of doors.
With limited time and resources, many firms may establish a workflow for naming doors that works best for them. Who has time to read all of the mandated and recommended standards out there? That is where common naming conventions and standardisation can help. And with BIM growing ever more prevalent and expanding around the world, it is best to have order.
Think of the way you number doors in a project.
When you add a door in Revit, a logical system could mean applying a sequence or subsequent numbers as you place doors in a project.
What happens when you delete a door? When you delete a door, schedules can quickly get out of control. Deleted doors may retain numbers and associated parameters. The number of doors could be inaccurately reflected within the project, allowing for miscommunication and confusion for architects and consultants.
Some recommend following conventions around the room numbering for the door naming convention. 
For example, if you have an interior door, you may want to associate a door with a room number. The door should receive the number of the room it opens up to. For example, D-04a and D-04b open to room number 04.
From doors and hardware specification perspective the uniqueness of a door, the number (mark) is of key importance. I know that it is easier, at the design stage, to think about let's say 15 doors of the same type but at the end of the day these 15 "same doors" will end up being 15 unique products having their unique place in warehouse, unique QR codes, unique place in the building.
If we look at the building lifecycle, these doors will face unique usage conditions, which will transfer to unique service request and so on.
Uniqueness is the key, and I believe this should become the standard.  But, that is also where a tool like Openings Studio™ can help.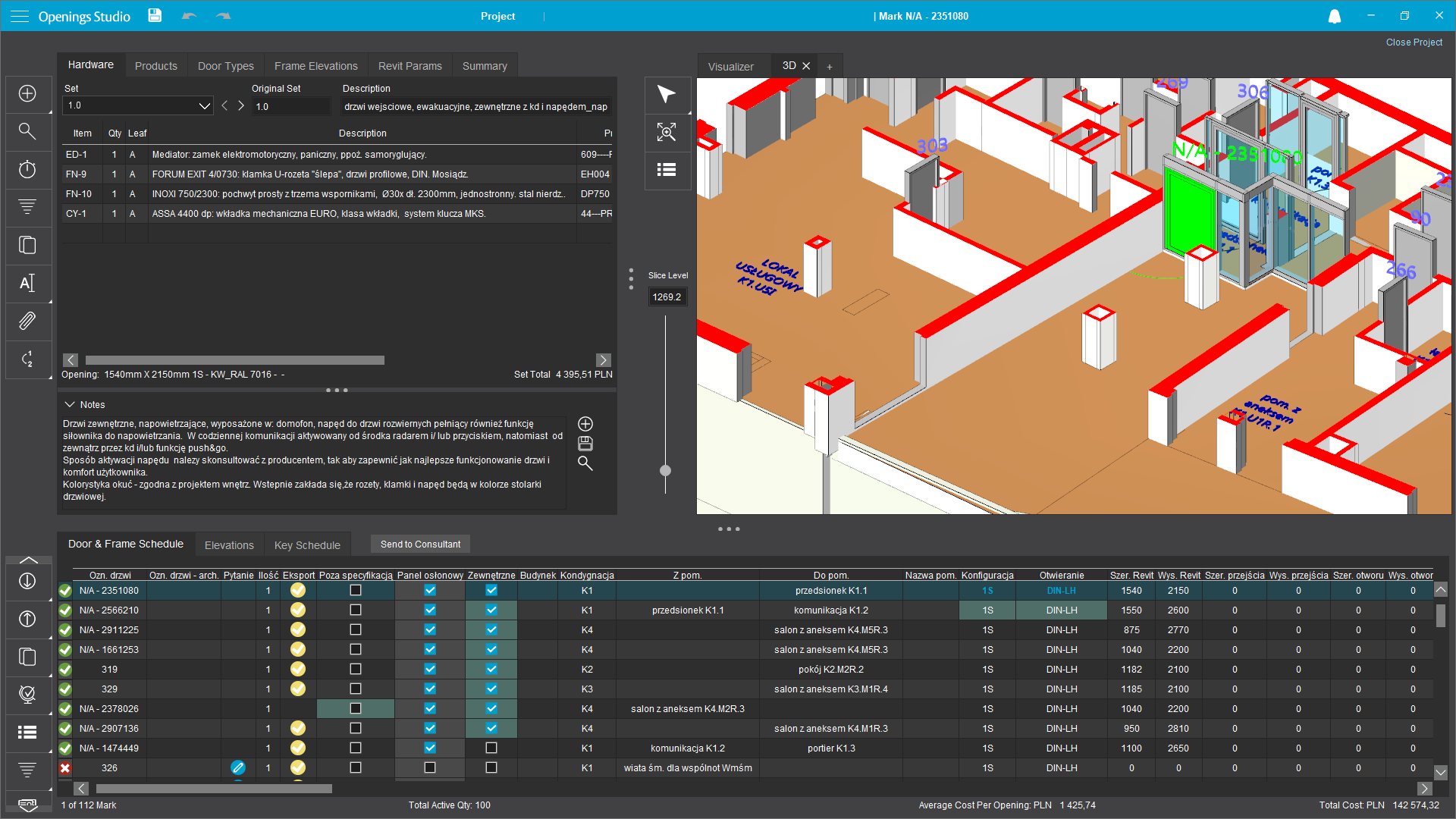 While it helps to have a numbering system in place ahead of time, Openings Studio™ has a feature that can help you to identify duplicate doors. Now when you pull a door schedule into Openings Studio, you can quickly see if you have copies of doors, or even if you have the right number of doors.This can help consultants and architects ensure that everyone is on the same page.
To learn more about Openings Studio™ or to learn more about how standardising your door schedule can reduce headaches, contact an ASSA ABLOY consultant. You can also find me on LinkedIn!