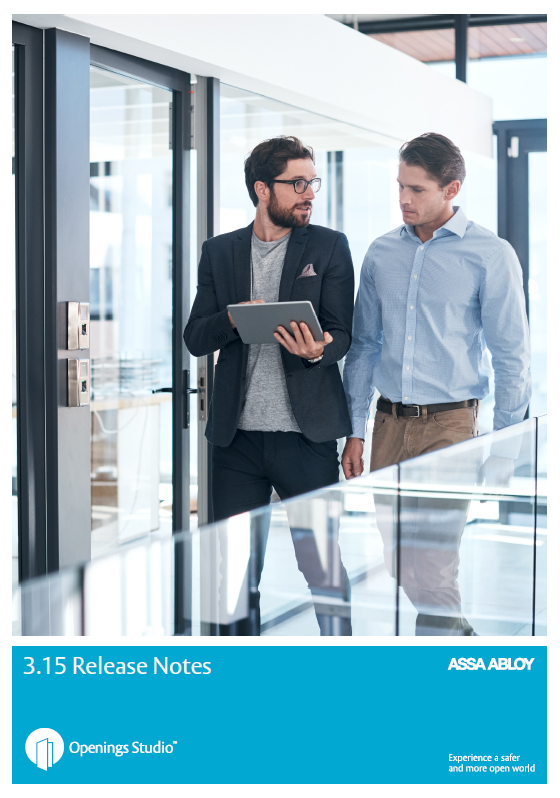 Our mission? Openings made easy.
It's our job is to make your job easier to do. We talk to real specification writers, architects, contractors and end-users every day to understand what needs to be better and how can we add to the experience. And we appreciate the feedback that we receive.
Here's some from our last release:
"I just wanted to say, from a spec writer's perspective, how great this last Openings Studio update has been. It is so much faster to work in and the 2D View is amazing."

Liana M. Steffens, AHC, CSI
Regional Architectural Team Leader - Northeast
ASSA ABLOY Opening Solutions - Door Security Solutions
Would you like to share your experience with us? Let us know at knowledge@openingsstudio.com.
You asked for it and we delivered: new features, guaranteed to make your job a little easier
Providing you the best Openings Studio experience is our priority. In this release, you'll find several new features to make your workflow better. Like the ability to merge duplicate hardware sets, customize how you re-number hardware sets and quickly search the Add-ons column in the door and frame types tabs - just to name a few. 
We've got something for architects too. Is a project in Archicad taking too long to analyze? If the project is over 300 MB, architects now have the option to run a parameter only analysis to speed up the process.  Let us know if you would like to see this feature added to Revit as well.
Speaking of Revit, the Revit 2023 plugin is now available. Read about all this and more in the notes below.
All the best!
Melissa Megna
BIM Education & Community Manager
---
Find and merge duplicate hardware sets
Wondering if you have duplicate hardware sets in your project? Now you can check!  See how.
Custom re-numbering of hardware sets
Another great hardware set update is the ability to customize your hardware set re-numbering. You still have the ability to use the standard numbering sequence, but now you can also change it.
Future Feature: We will be adding the option to customize re-numbering by groups of sets in the next release.
New filtering on Add-Ons
Door and frame manufacturers frequently have a very long list of Add-Ons. Now, you have the ability to filter on this list. Learn more.
Revit 2023 plugin
It may still be 2022, but Autodesk has released their 2023 version of Revit!
To help your architects download the new plugin, direct them in the hamburger menu and then Plugins. 
Note: Revit needs to be closed for installation.
Helpful Hint: Architects can launch Openings Studio from the Windows Start menu. A complete re-install in not necessary to add a new plugin and admin rights should not be needed.
Archicad - Parameter only analyzing option
Sometimes, analyzing is a painfully long process for architects on large projects. In this release, we've added an option to do a Parameter Analyze for Archicad projects over 300MB.
We recommend trying the Full Analyze first, but if it's taking too long, use the Parameter Analyze instead!
Note: A parameter only analysis will not include a 2D or 3D view. However, you will still see yellow highlight changes in the Door & Frame Schedule and have the ability to map.
Let us know if you would like to see this feature added to Revit as well
Mobile app - NFC tags
As an upgrade to the QR code version of the Smart Tag, NFC (near-field communication) tags from HID can also be used. NFC tags are ideal in situations where security is extra important or a tag may be painted over.
Note: Mobile devices must have an NFC chip and be enabled to read NFC tags.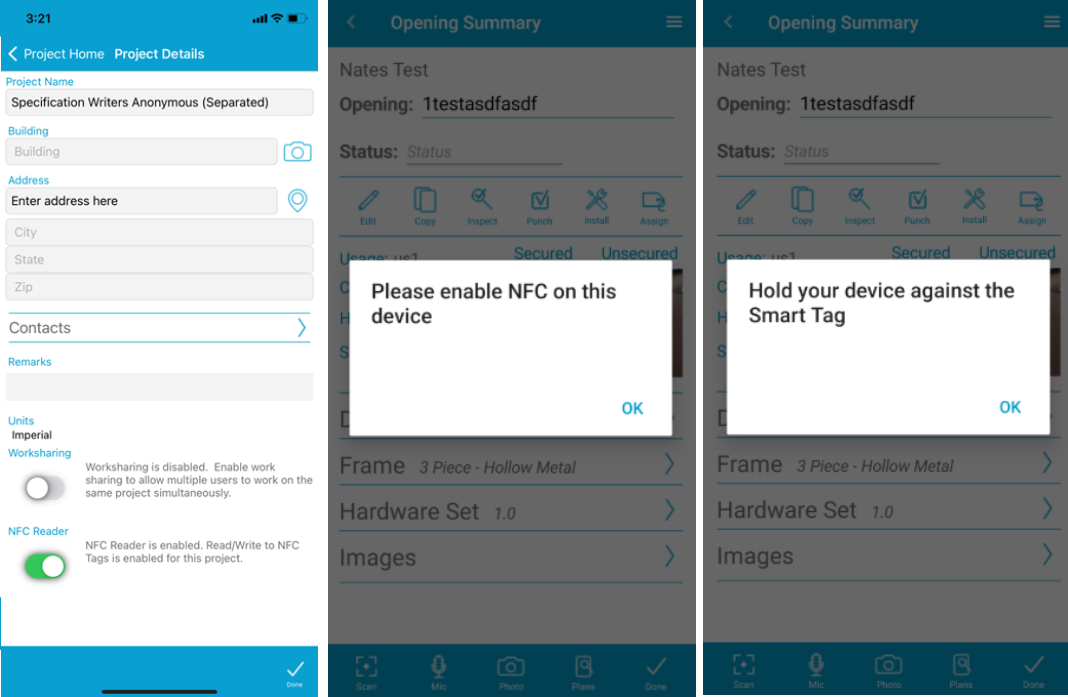 New frame inspection
Frame inspections during construction can be critical to installing the door and hardware correctly.
The Mobile App now has a frame inspection available to document that the frame has been installed square and plumb.